Coastal Engineering Field Studies (CEFS) Division is formed way back in 1973 considering the importance of long-range coastal data collection of Kerala Coast. This is a small Research and Field Studies wing headed by one Joint Director (Executive Engineer) with Headquarter at Thrissur. This wing of the Irrigation Department comes under the Chief Engineer, Irrigation Design and Research Board (IDRB). It is functioning under Director (Superintending Engineer) Kerala Engineering Research Institute (KERI) Peechi. Under this Division, there are three subdivisions.
1. Coastal Erosion Studies Sub Division, Kozhikode.
2. Coastal Engineering Sub Division, Ernakulam.
3. Coastal Engineering Sub Division, Kollam.
This organization is engaged in the collection of data and field studies on coastal erosion along the Kerala coast. The section offices are at Thiruvananthapuram, Kollam, Thottappally, Chethala, Ernakulam, Chavakkad, Parappanangadi, Kozhikode and Thalassery.
Mythological concepts and Archaeological and Geographical exploration lead to the incontrovertible fact that Kerala was once upon a time under the bed of the sea and the sea is slowly eroding the Coast of Kerala and pushing the Coastline Landwards every year.
Even though Kerala has one of the smallest states in India (21st position in Land Area), It has had 5th Position among Indian State in the distribution of Sea Coastline with 576 Km in length. The State is sand witched between the Arabian Sea on the west and the western ghats on the east. Out of the 576 Km long sea coast, about 2/3rd of the Coastal length is reported to be prone to erosion. The Coastal Zone has the maximum concentration of population and is even many times than the state average of many places. Many of the Industries, residential localities District headquarters, Ports and Harbour and many of the public sector establishments which have predominant social and economic importance exists along the Coastal zone. So, the Government have great concern for the protection and conservation of these areas.
Coastal protection measures have been started in Kerala as early as 1890 to protect a portion of the Travancore Shornur Canal near Varkala. During the Severe erosion years (early 1960's) experts advised the Governments on the need for systematic data collection for improvements of construction methods and procedure for protecting the thickly populated coastal area of Kerala. Based on the recommendation of the public works department, the Government of Kerala has initiated the coastal data collection programme in the state in 1973. The Organisation is now working under Kerala State Irrigation Department after the bifurcation of the PWD.
ORGANISATIONAL SETUP CHART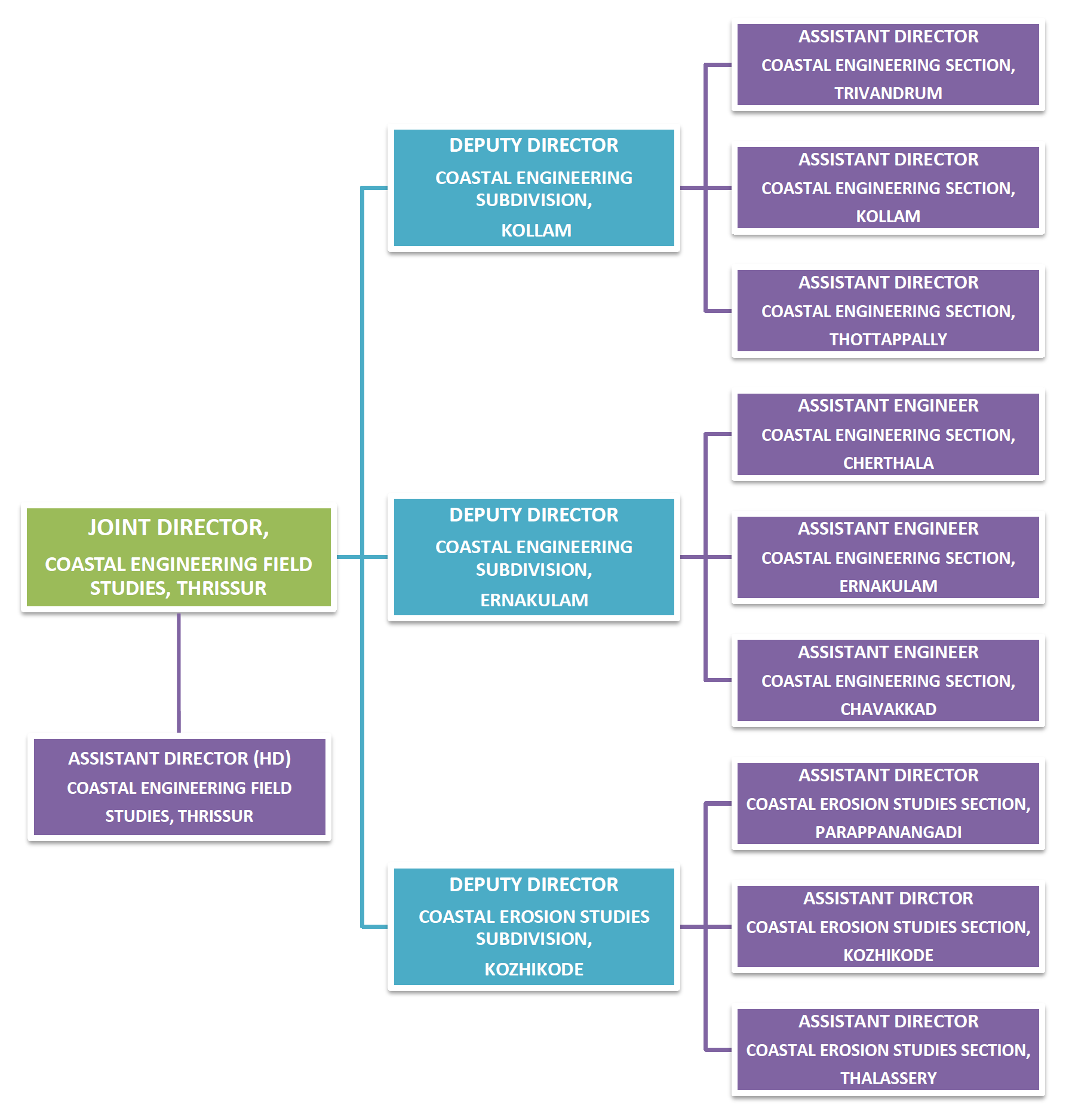 ACTIVITIES AND  PROGRAMMES
Collection of coastal parameters
Conducting field studies on coastal erosion along the coast.
Investigation of present conditions of sea coast by means of surveys and observations.
Establishing Control point stones (CP Stones), Alignment stones (AS Stones), kilometre stones (KM Stones) and Benchmark stones (BMStones) as reference points along the seacoast.
Collecting data on shoreline measurements, simultaneous observationat 18 specified locations along Kerala coast on all new moon days,
Preparation of Coastal damage reports with photographs, collecting soil samples and status of coastal protection measures.
The offset measurements of shoreline with respect to CP and AS are taken every month and are recorded
Alignment fixation of coastal protection measures.
Conducting bathymetry survey up to a depth of -5m towards the sea bed at certain specified locations .
Kerala is the 5th longest coastal state in India with a coastal length of 576 km even though it has 21st place in land area. The Seacoast of Kerala is a narrow strip of alluvial deposits sand witched between Arabian sea and a chain of backwaters. 9 out of 14 districts have coastline. The average population density of Kerala is 859 /sq.km whereas it is 2262/sqkm at coastal areas.
Investigation of present state of SeaCoast is done by means of surveys and observations.The specific factors for which data are being collected are
Shoreline and Shore history.
Wave parameters by visual observation
Direction of littoral drift.
Engineering interventions along the coast and its status
Shore depth
Study of beach material and Sample analysis
 Simultaneous Observations
| | |
| --- | --- |
| | |
| Metal float | Diver with metal float |
| | |
| --- | --- |
| | |
| Pyconometer | Sieve set with Mechanical Shaker |
Fish finder
FUTURE PROPOSALS
1. Tidal station at Thottappally
2. Conducting detailed site specific study at Chellanam in Ernakulam district.
3. Completing the pending planting of CP stones for the last 25km Kerala coast from Mogral River to Thalappady in Kasargode district.
4. Carrying out the replanting of missing stones and maintenance of existing control points.
UPGRADATION OF CEFS
Planning, design and execution of coastal protection needs systematic collection and analysis of data. Presently Littoral environment parameters like breaking wave height, wave period and direction, direction of drift ,shoreline changes are included in the study by visual observation methods. For getting the coastal geomorphology, nearshore wave climate has to be assessed along with surveys and related investigations. Modern technologies and equipments have to be implemented.
Joint Director,
Coastal Engineering Field Studies, Division,
Thrissur
cefsthrissur@yahoo.co.in
0487-2332001
Deputy Director
Coastal Erosion Studies (Subdivision office),
Kozhikkode.
cescalicut@gmail.com
9447335004
Deputy Director
Coastal Engineering Sub Division (Subdivision office),
Ernakulam
rajeshtk040@gmail.com
9142238493
Deputy Director
Coastal Engineering Sub Division (Subdivision office),
Kollam
coastaleklm@gmail.com
9535103077