Hydraulics Research Division is headed by a Joint Director, who is an Engineer of the rank of Executive Engineer in the Irrigation Department. Under this Hydraulics Research Division there are three subdivisions.
1) Hydraulics Division
2) Coastal Engineering Division
3) Sedimentation Division
Hydraulics division caters to all studies on various problems in Applied Hydraulics and proposes solutions for the same in major and minor irrigation schemes as well as in Hydro-Electric Projects in the state.
Coastal Engineering Division contributes in conducting topographical investigations of various works of Irrigation Department and other departments using modern survey equipments such as smart station.
Sedimentation Division conducts studies to compute the present capacity of reservoirs and other water bodies using 'Integrated Bathymetric System' (IBS) and Sub Bottom Profiler.
ORGANISATIONAL SETUP CHART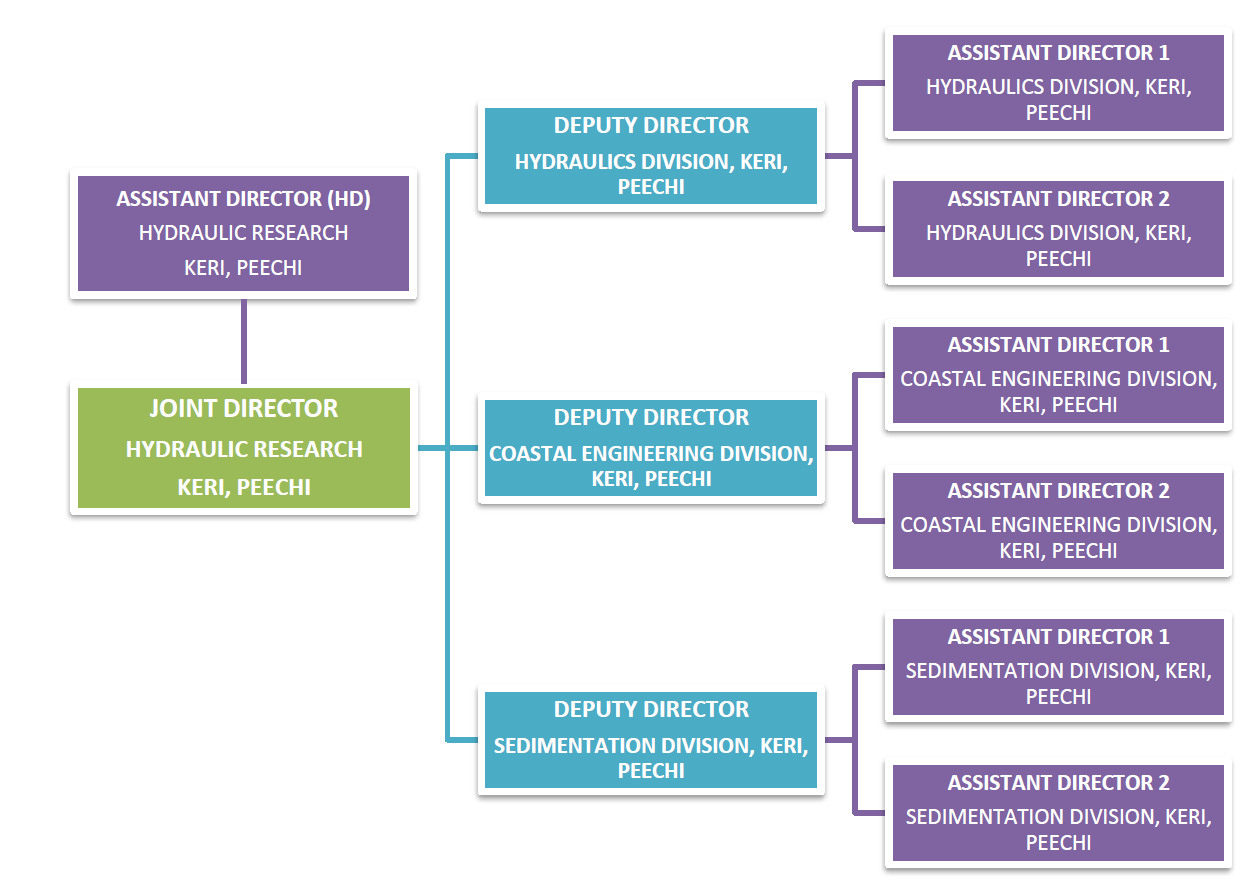 ACTIVITIES AND  PROGRAMMES
Hydraulics Division
In the Hydraulics division, modelling studies are conducted on a wide range of parameters for hydraulic structures such as spillways, sluices, chutes, energy dissipating arrangement, operation of gate, flow condition in tail-race, silt excluding arrangements, hydraulic behaviour of canal structures, river training works etc. The major activities of the division includes
Model Studies of hydraulic structures
Calibration of hydraulic equipments such as notches
Meteorological observations
Desiltation studies of dams
Current Projects
Model study of Kuttiyadi dam
Model study of Pattissery dam
Renovation work of existing Calibration tank for restarting the Calibration of current meter
Previous Studies
Model studies of dams, spillway, energy dissipating arrangement and other hydraulic structures at Cheruthony, Peppara, Kallada, Chimmony, Attappadi. Idukki, Karapuzha , Lower Periyar etc.
Model study on Bank Protection works in Bharathapuzha along Thrithala
Model study of Periyar Barrage, Regulator on LBC
Model study of Kanjirappuzha Irrigation Project,
Studies on Moolathara Canal Lining, Ponnani fishing Harbour
Studies on Flood and consequent erosion – Karuvannur River Valley, Karingote River
Qualitative analysis study of sediment of Chulliyar dam
Calibration of notches from Pothundy, Kanjirapuzha, Cheerakuzhy dams
Coastal Engineering Division
Coastal Engineering Division contributes research works on coastal protection measures, experimental study of wave run up on beaches, experiments to evolve suitable artificial blocks, study on mud banks, wave action on beaches, waves and currents, littoral drifts, artificial nourishment etc. The model study of fishing gaps, design of fishing harbours like Mopla bay, Ponnani, Vizhinjam etc. were also conducted by this division during 70's and 80's. Collection of wave data and observation of beach characteristics have been carried out at several stations along the Kerala coast in the new moon day of all month for assessing the changes of Kerala Coast over years. Among these stations, observations at two stations ie.atPadinjareVemballore and Anchangadi in KodungallurTaluk have been carried out by this division till December 2013. KERI uses a Total Station (TS11) and a powerful GNSS Receiver (GS18T) for conducting topographical investigations works of Kerala Irrigation Department. We are providing the same services to other departments also.
Highlights of investigations conducted by this division includes
Investigation of a new dam site at Muthalamada to study the feasibility of SAKKIP
Investigation works at Chamravattom Regulator cum Bridge for a study on establishing causes for piping/undermining observed on the downstream end of solid apron of RCB
Connecting Bench Mark Stone at Mullapperiyar to MSL with respect to a permanent benchmark at Central Water Commission, Vandipperiyar.
Investigation of regulators in Vamanapuram River Basin under KIIFB
Topographic survey for preparing the contour map for distributaries of RBC and LBC of Karappuzha Irrigation Project
Investigation of new check dams across Thoothapuzha in Vilayur and Sreekrishnapuram
Connecting MSL at various stations in Attapady for the proposed AVIP dam.
Topographical investigation for fixing the alignment of Seetharkundu waterfall diversion scheme.
Topographical survey for assessing the sedimentation in Velliyamkallu RCB at Thrithala.
Survey of Chandragiri River in Kasaragod District for preparing the master plan of water management system in Chandragiri River.
Current Projects
Sand budgeting in Chaliyar river basin
Survey of Chandragiri River in Kasaragod District – Phase II
Topographical investigation for fixing the submergence area of proposed AVIP dam
Topographical investigation of new check dam across Gayathripuzha in Kavassery
Topographical investigation for fixing the alignment of Seetharkundu waterfall diversion scheme – Phase II
Topographical investigations for rectification works of Karapuzha Irrigation Project
Sedimentation Division
Sedimentation Division conducts studies to compute the present water holding capacity of reservoirs and other water bodies using 'Integrated Bathymetric System'(IBS) and ascertain the underwater profile of the sediment layer using 'Sub Bottom Profiler' . Sedimentation division has completed 44 studies using IBS. The Studies carried out were Peechi, Malampuzha, Peppara, kanjirapuzha, Mangalam, Aruvikkara, Vazhani, Pothundy, Chulliyar, Meenkara, Walayar, Poomala, Kuttiyadi, Neyyar, Mullaperiyar, Pazhassi, Siruvani, Karappuzha, BoothathankettuReservoirs, KampalatharaEri, Kundukkad Pond, Vembanad wetland ,Chamravattom RCB, Thottappaly Spillway, BiyyamKayal, Kattamppilly wetland and AkkulamVeli lake. In these, Sub Bottom Profiler was used for 20 studies.
Current Projects
Sedimentation survey of
Poringalkuthu Reservoir (Deposit Work of KSEB)
Pothundi Reservoir
Meenkara Reservoir
Pazhassi Barrage
Karappuzha Reservoir
Malankara Reservoir
Hydraulics Division
Model Areas
In model areas, the model studies of hydraulic structures and calibration of hydraulic equipments are conducted. There are two model areas under this division which includes a number of models.
 

Model Areas
 Relief map of Kerala
The Relief map of Kerala (Kerala model) at K.E.R.I. is a three-dimensional model of Kerala painted with colourful paints for each district and remarks National Highway, State Highway, Railway Line and Rivers with suitable colours.
Kerala model
List of equipments in Meteorological Station
| | |
| --- | --- |
| Max & Min Thermometers & Bimetallic Thermograph | Temperature |
| Psychrometer (Dry & Wet bulb) & Hair Hygrometer | Relative Humidity |
| Standard Rain Gauge, Self Recording Rain gauge | Rainfall |
| Land Pan Evaporimeter | Evaporation |
| Wind Vane | Wind Direction |
| Cup Anemometer | Wind Speed |
| Sunshine Recorder | Bright Sunshine |
| | | |
| --- | --- | --- |
| | | |
| Meteorological station | Equipments at station | Automatic Weather Station |
Automatic Weather Station
The Automatic Weather Station plays an important role in providing short term and long-term time series weather observations. Automatic weather station is functioning in Meteorological Station with Remote transmission facility and a Solar Panel for uninterrupted power supply.
Software
ERDAS Imagine Software is used for digital analysis and visual interpretation of satellite image of the area. The assessment of land use pattern and change in the ayacyut area of irrigation projects using this software can be done using this software.
Coastal Engineering Division
Smart Station
Smart Station is a new revolutionary surveying system in which high performance Total Station and a powerful GNSS Receiver are perfectly integrated. With Smart Station there is no need to search for and set up over control points, to run long traverses, or to resect the position. Total stations need local control points over which they can be set up, from which they can traverse, and to which they can measure to resect their positions.
| | | | |
| --- | --- | --- | --- |
| | | | |
| GS 14 Satellite receiver  | GS 18 Satellite receiver | TS11 Total Station with Prism | |
On the other hand, GPS RTK receivers can determine their positions within a few seconds to centimeter-level accuracy using data from GPS reference stations. GPS RTK rover receivers are fast and efficient to use but need an open view of the sky in order that they can receive the satellite signals. Total stations can measure and stakeout where RTK cannot be used: to building corners, to points under trees and bushes, in city canyons, on construction sites where there are large obstructions. Total stations and GPS RTK equipment each have their advantages. Smart Station combines the best of both.
Sedimentation Division
List of equiments
FRP Survey Boat
FRP Boat
A Fiber Reinforced Plastic (FRP) boat with two 60 HP petrol out board engines is used as the Survey Boat. The boat has dimension of 7.5mX 2.66mX 1.20m and 8 persons capacity with the equipment. The boat with all the survey equipment is referred as the 'mobile station'. For the power supply, two solar panels of 80Watt each are mounted on the roof of the boat.
Sub Bottom profiler with Transducer
The system SES-2000 sub-bottom profiler, which is a mobile parametric sediment sounder, is used for bathymetric and sub-bottom profiling survey. The compact design with a user-friendly control unit allows the survey even in small and shallow waters with all the advantages of the parametric acoustics.
| | |
| --- | --- |
| | |
| Top- side Unit | Transducer |
Differential Global Positioning System (DGPS)
DGPS MX- 610 is highly reliable and it receives correction from a permanent reference station which is approved by Govt. of India, Dept. of Light house and Light ship. It can also track up to 12 satellites to achieve maximum positional accuracy. The received position is transferred to Echo Sounder and Sub Bottom Profiler.
| | |
| --- | --- |
| | |
|  Differential Global Positioning System  | Echo sounder (MIDAS Surveyor) |
Echo sounder (MIDAS Surveyor)
The MIDAS Surveyor is a revolution of small boat survey work with an integral GPS receiver. It logs and displays DGPS position data in WGS 84 or Local Grid. This Echo-sounder is designed to measure under water depth up to 1200m. Accuracy of instrument is 1centi metre. A dual frequency echo-sounder is specified to distinguish between fluff top depth and the consolidated bottom. The high frequency (200 KHz) is used to detect the top of the mud/sediment. Under favorable conditions the low frequency signal (33 KHz) can penetrate into the bottom and reveal information about the bottom structure.
Software
QINSY SOFTWARE– This software is used for data collection and processing in IBS survey. The Bathymetric software supports NMEA 0183 compatible devices. Local grid UTM (WGS-84) is the projection supported by this software
SESWIN -This software is used for the data collection in Sub Bottom Profiler.
I.S.E. 2.9.2 – This is the post processing software used for analyzing the data collected from sub bottom profiler.
Surfer software – Surfer is a graphic program used for calculating the volume based on the logged data from the IBS and Sub Bottom Profiler
Joint Director
Hydraulic Research Division, KERI ,Peechi , Thrissur
jdhydraulicresearch@gmail.com
04872699010
Deputy Director
Hydraulics Division (Subdivision office)
ddhydraulicskeri@gmail.com
9447329515
Deputy Director
Coastal Engineering Division (Subdivision office)
ddcoastalkeri@gmail.com
8921123360
Deputy Director
Sedimentation Division (Subdivision office)
dd.sedthekeri@gmail.com
9446992467